If you're just starting your freelance writing career or you just started a fresh new blog or content website, you might be wondering how long does it take to write a 1,000-word blog post.
It's a valid question that many new writers have. I know that because I had that same question too! When I started writing blog posts I didn't know how long it would take me or if I was being fast enough.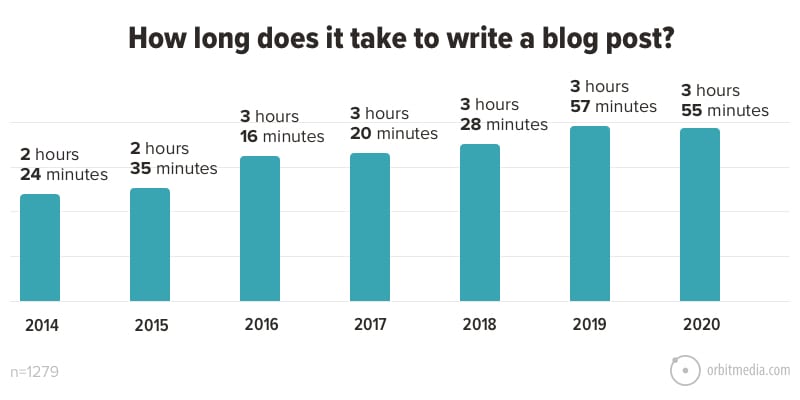 So, how much time is it?
A beginner blogger can spend 5-6 hours creating a really good 1,000 words blog post. For an experienced blogger, a good 1,000 words blog post takes around a total of 4 hours to write. Spending an extra hour or two on your blog post, research, and collecting data may be a good idea. Bloggers spending more time researching have a higher success rate according to a survey Orbit Media made with 1,279 bloggers.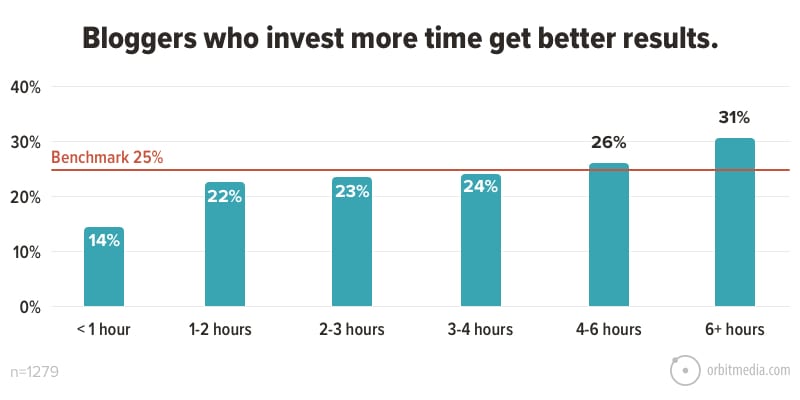 HubSpot's research found that marketers spend an average of 1-2 hours to write a 500-word blog post.
And according to research by Orbit Media, it takes on average around 3 hours and 55 minutes to write 1,262 words. This trend indicates that blog posts are getting bigger in length year by year and take more time.
So the data is consistent. But why does it take so long to write 1,000 words? You'd think it would take less time, but let's explore the process of blog creation to find out why writers spend so much time crafting their blog post:
Come Up With a Topic that Your Readers Like
Your obvious first step it's to come up with a topic to write about. And the topic you choose will have a direct impact on the length of the post.
Some ways that bloggers come up with topics are:
Research what others in their niche are writing about.
Ask their readers.
Go on Social Media to find inspiration.
Share anecdotes or stories related to their niche.
Investigate frequent questions and their solutions.
Once you've settled with a topic, you can determine the length of your blog post. And if you see it'll take time, then you can divide it into several posts and tackle every aspect individually.
One tip that'll save you time it's to create a content calendar every week or month. Get ahead of yourself and create a content calendar to save some time.
Consider the Writer's Experience on the Topic
Whether you are your own writer or you have other people to write for you, you need to consider the writer's experience. The experience on the topic and the writing experience.
New writers will spend more time writing and formatting a blog post than professionals. This is obviously because professional writers have learned and improved over time.
Beginners can easily spend 5-6 hours on a 1,000-word blog post that a professional could do in 2-4 hours.
But even when they're professionals, if they're not an authority on the subject, it might take them longer to finish the blog post.
Research Time
This is the moment in which you already know what to write, but now you need credible sources to back you up.
It's also the part that consumes the longest amount of time!
Even when they're both professional writers and have authority in the field, writers need time to find credible sources to make their blog post sound more legit.
Research involves looking for studies, graphics, and see what competitors have said about the topic and then make something better than the competition.
Create an Outline & a Structure With SEO in Mind
Now that you've found credible sources on the topic and you have your ideas scattered on your head, you need to create an outline with SEO practices.
This can be done as you do the research and it's important if you want your post to maintain a coherent flow.
Break the sections with H2 and H3 titles, decide where to display graphics, and most importantly for SEO: think about the search intent, what does the reader really wants to read about.
This pre-writing ritual is necessary to help you organize your ideas throughout the post. Read our entire article on Organize Blog Post Ideas here.
If you're paying someone to do this, then let them handle it, but if you're your own writer, keep this in mind as you write.
Start Writing
A typical blog post has an introduction, the body of the post, and a conclusion.
One tip is to locate 10% of your word count in the introduction, 80% on the body, and the last 10% on the conclusion.
It's very important to add value and information in every sentence. Don't add repetitive information or gibberish just to reach the word count.
Settle for short sentences, bullet lists, sub-headings, and every resource at hand to make your content easy to read and understandable.
Now, let's talk about typing speeds because that can affect how long you take writing the blog post.
CapitalyzeMyTitle made a chart explaining how long it would take you to write something based on how many words per minute (wpm) you can type.
It would typically take around 25 minutes to type 1,000 words on a computer and 50 minutes with handwriting. But as we can see, there's more to blog posts than just writing.
So, if you improve your typing speed you will obviously save some time when you write.
Add Images, Links, Tables, and Graphics
Once you have your content, bloggers need to add a series of elements to improve the quality of their blog posts.
Now it's time to add those graphics and external links that you found during research. Sometimes, people need time to either create their images or find free images to use in their posts.
Why? Because articles with images get 94% more views than those without them, according to HubSpot and Jeff Bullas. And links (both external and internal) are necessary SEO practices to help you rank better on Google.
Don't Forget to Proofread
As soon as the writing ends, the editing begins.
With WordPress, you can preview how your content will look before you submit it. It's important that your blog posts are aesthetically pleasing both on desktop and mobile devices.
And since we're all humans and making mistakes it's pretty natural, you need to proofread to find any grammatical mistakes and eradicate them from your blog post.
When you proofread, you might add extra sentences to finish an idea, delete whole sentences, or restructure a whole paragraph.
And once you're done with that, you've finally finished! You can confidently publish your blog post and wait for the results to come.
Conclusion
As you can see, writing a blog post takes a lot of time and effort. That's why it takes an average of 3 hours and 55 minutes to craft a 1,000-word blog post.
It's also important to know this if you're a freelance writer and need to calculate how many words you can write per day.
Keep in mind that everybody at the beginning takes a lot of time to write a blog post, but as time passes, their writing and research skills improve.
But a good blog post needs time and energy to get excellent results. Quality over quantity it's a principle that applies to many areas, and this is no exception.
Read more
More on the same subject, by other bloggers.
https://zenpost.com/blog/how-long-to-write-blog-post/